The ending to Murder Notes…. I put my phone down, picked it back up, re-read the last sentence, and repeated for about 10 times. Talk about a cliffhanger.
Needless to say, I really enjoyed it, as I often enjoy Lisa Renee Jones' novels.
Synopsis
New York Times bestselling author Lisa Renee Jones's heart-pounding thriller of a woman's secrets—and a past that's about to come out of hiding…
As an FBI profiler, it's Lilah Love's job to think like a killer. And she is very good at her job. When a series of murders surface—the victims all stripped naked and shot in the head—Lilah's instincts tell her it's the work of an assassin, not a serial killer. But when the case takes her back to her hometown in the Hamptons and a mysterious but unmistakable connection to her own life, all her assumptions are shaken to the core.
Thrust into a troubled past she's tried to shut the door on, Lilah's back in the town where her father is mayor, her brother is police chief, and she has an intimate history with the local crime lord's son, Kane Mendez. The two share a devastating secret, and only Kane understands Lilah's own darkest impulses. As more corpses surface, so does a series of anonymous notes to Lilah, threatening to expose her. Is the killer someone in her own circle? And is she the next target?
-via Goodreads
Review
Can we talk about how hilarious Lilah is? No seriously, her wit is always on point and her sarcasm is just great. I honestly got a great laugh out of Lilah's sassiness. As per the meme below, well… Lilah does have a way with words.
Her entire interactions with her brother were just relatable, at least to me they were. When she called out her brother for the profiling, it was like
Can we take a moment to talk about the whole Rich – Lilah relationship. Lilah wyd gurl? I feel like he might have a larger role to play in following books. But he needs to back off, yeah I'm not a fan of his.
You know who's fan club I do belong to though… Kane's. Obviously!!!! If you read my blog regularly, you'll notice a pattern for me in terms of the books I read. And for that particular reason, anytime Lilah and Kane interact I'm just like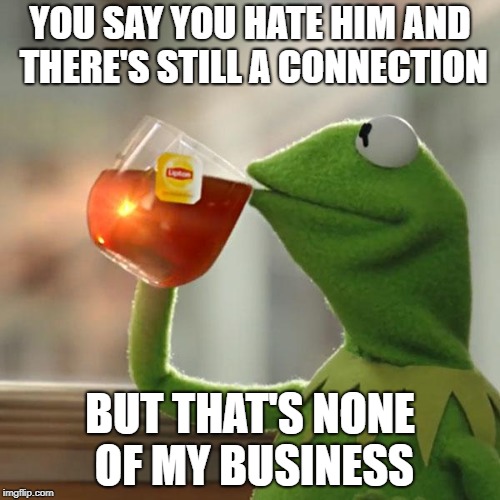 (I just discovered meme's so….)
I'm just saying, if nothing happens between them I'm going to be very upset.
And with all the little hints as to what Lilah's secret is…. It's sooooooo frustrating. Like just tell us already!!!!!!!!
Anytime Eddie, Alexandra, and Andrew interacted as a group and Lilah interrupted, there felt like there was a weird vibe, like there's something more to the story so I was just like… what's going on, and what do these people have to do with it?
In terms of Lilah's secret I have one part of it figured out. She and Kane did something…. but she was apparently drugged at the time, sooo… What does this mean and where is this plot line going? I have no idea but I have huge hopes for it, otherwise why make Junior a thing.
And back to my opening line…. THAT CLIFFHANGER THO!!!!!!
No seriously, the cliffhanger was crazy!!! I like need the next book Murder Girl already. But unfortunately, we have to wait until July 1oth. Best believe I will be first in line to purchase, I'm just waiting for the next paycheck before I pre-order.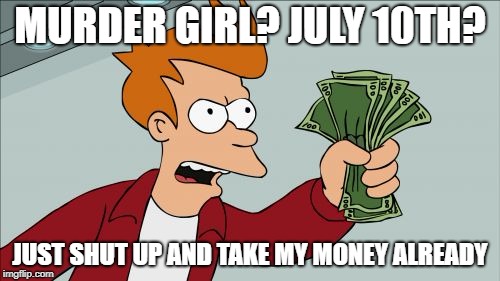 I just want to know what happens next. Lisa Renee Jones, you know where to find me.